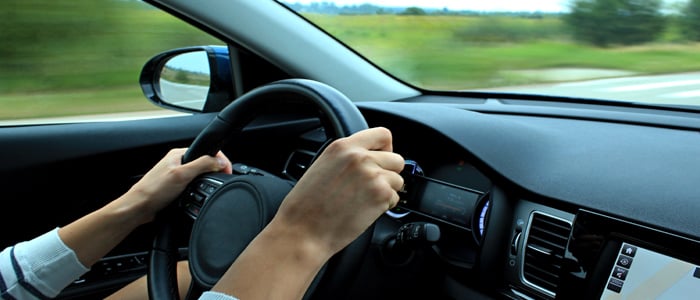 If you thought Alexa's capabilities were confined to the home, think again. The well-known voice is now integrating into vehicles, too.
---
You may be familiar with Amazon's Alexa—the friendly voice that delivers daily weather updates, tests you on trivia, and plays your favorite music. But now, in an effort to avoid cabin fever, our beloved Alexa is looking to spend some time out of the house with the help of the connected car. Who's driving? Ford, BMW, and Toyota all plan to integrate Alexa into their infotainment systems in the near future. Here's how:
No hands? No problem!
One of the biggest benefits of using Alexa at home—and even more so in the car—is hands-free operation. Recently, Amazon upgraded Alexa for the journey with Echo Auto. By connecting to a user's mobile device via Bluetooth, Echo Auto can play music, add items to an Amazon cart, and direct drivers from point A to point B.
Echo Auto can even aid in driver safety. More than 400,000 drivers are injured and 3,000 more die each year from distracted driving – with a voice-interactive solution like Alexa, drivers can focus on keeping their hands at '10 and 2,' and less on selecting which song to play next.
Plays well with others
At home, Alexa is already able to integrate with products you use every day – now Amazon is extending shrewd licensing agreements to vehicles. These partnerships allow Alexa's capabilities to be integrated and enjoyed with products like Garmin Speak, Rova Viva by Anker, Speak Music Muse, and Logitech Zero Touch. Even if drivers aren't familiar with or can't afford Amazon's hardware, thanks to these agreements, they can still utilize the benefits of Alexa's software in their vehicles.
From checking out the latest tunes, to navigating an unfamiliar neighborhood, to preparing the house for arrival, these integrations are a sign that companies are taking advantage of the ubiquity of the everyday digital assistant.
Looking ahead
In 2015, there were 36 million connected cars on the road. By 2020, there will be a whopping 381 million! Even with many drivers keeping their vehicles longer, the connected car won't be delayed. Options like app integrations and the Echo Auto will simply allow drivers with older cars to utilize these features, rather than having to upgrade their vehicle right away—making models both old and new safer and more compatible for our connected world.
Looking for more on how technology is changing the automotive industry? Check out these six features that are impacting how we drive today.
Fortegra® is the brand name for the insurance, specialty underwriting and warranty solution operations of Fortegra Financial Corporation and its subsidiaries.