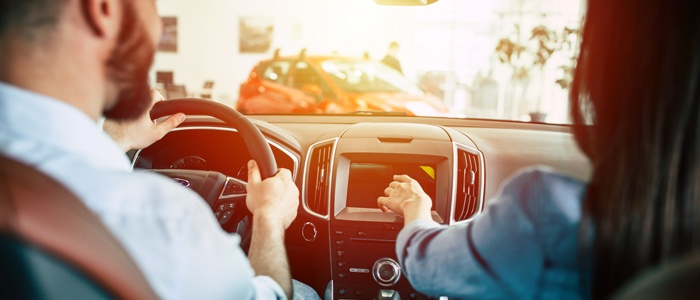 Automotive consumers are driving new sales trends, preferring wireless connectivity features, virtual assistance, and other tech upgrades to make long commutes and travel more comfortable.
---
The average commuter spends 100 hours traveling to and from work each year. With so much time spent on the go, consumers are seeking ways to stay more connected. Thankfully, for those on the road, features like on-demand music, GPS guidance, and cloud access allow them to use their vehicles to be just that—more connected than ever before.
Depending on the model, today's vehicles are offering a wide array of connectivity options to choose from. Which ones are driving consumers to the point of purchase? Let's take a look.
Custom travel experiences
The future of cars? Think: 'computers on wheels.' But what exactly does that mean? According to a recent McKinsey report, cars will mimic computers with the ability to connect to third-party applications, process data in the cloud, operate autonomously, and mirror the home-entertainment experience. Many auto manufacturers have recognized this shift and begun providing these features, giving drivers more control and comfort during the travel experience in their 'connected car'.
GPS preferences
Rather than include a typical, built-in GPS feature, General Motors developed their Chevrolet Bolt electric vehicle to sync directly to the mapping system on drivers' phones. Whether they prefer Waze or Google Maps, drivers have the flexibility to choose which one they want to use each time they step into their vehicle. This unique feature is an example of manufacturers meeting drivers where they're most comfortable and catering to their daily habits.
App communication
Keeping pace, Tesla recently announced Summon, a new feature in its Model 3 which provides parking assistance via the Tesla app. And it doesn't stop there. Tesla is making it easier for drivers to keep their cars up to date by communicating with vehicles on the road to download updates and install major fixes.
Security and peace of mind
Partnering with Cisco, a worldwide leader in technology services, Hyundai is prioritizing security in the connected car. From real-time traffic updates to internal vehicle communication, vehicle-to-vehicle and smart road infrastructure communication, Hyundai and Cisco are making the roads safer together. And, yes, you read that right: Hyundai models can now communicate with road infrastructure like street lights, road signs, and even lane markings, allowing drivers to prepare for what's ahead. Additionally, Hyundai's new features prevent hacking and monitor the car's condition to identify and resolve issues remotely.
Virtual assistance
We're all familiar with Alexa, Amazon's virtual assistant who can tell us the weather, our daily schedule, or play us our favorite music. Well, Ford and Amazon have recently teamed up to offer Alexa capabilities in Ford vehicles. By simply asking for Alexa's assistance, drivers can listen to audiobooks, check the news, search directions, and even add items to their Amazon shopping cart—all while driving. Drivers can also use Alexa from home and ask her to start, lock or unlock their car, or access important vehicle data, without leaving the easy chair.
Wireless connectivity
Last, but certainly not least, is the impact of wireless on auto technology trends. 5G and IoT are playing essential roles in the new connected car, leading carriers like AT&T to provide customers with payment options for their in-vehicle hotspot. Whether they choose to add it to their monthly bill or purchase an additional unlimited data plan, customers can experience the feature as if it were part of their already established payment plan.
Following the trend, Verizon introduced Verizon Connect earlier this year, providing an extra layer of safety for drivers through connected vehicle software and services that can improve driver safety and efficiency. On top of that, Verizon Connect keeps drivers up to date on things like fuel efficiency and ways to reduce emissions. Plus, get this: if you have a positive driving record while using Verizon Connect, you can participate in a gamification feature that rewards the safest drivers.
On the road or at home, consumers are driving automakers to make their daily experiences safer, more productive, and more interchangeable than ever.
Fortegra® is the marketing name for the automotive operations of Fortegra Financial Corporation and its subsidiaries.