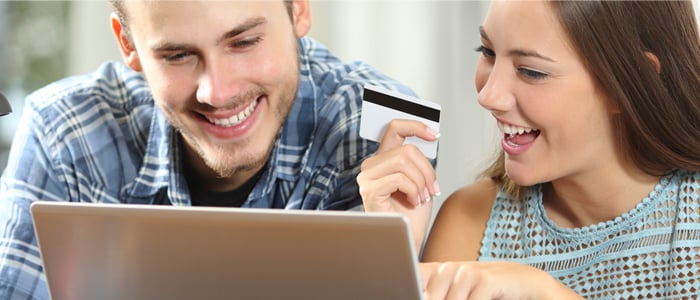 Online warranty sales can be a huge value-add for retailers. But they must first understand how to effectively promote the benefits of protection.
---
It's projected that there will be 230.5 million online shoppers by 2021, a five-year increase of nearly 21 million. As e-commerce becomes the new norm and in-person interactions are reduced, it's becoming increasingly difficult to adequately educate consumers—particularly on product protection.
To ensure consumers understand the benefits of extended protection programs and increase online warranty sales, retailers should consider three important strategies to educate their customers.
Education starts on page one
You can't expect shoppers to grasp the full value of protection plans if they're only offered as a throw-in at checkout – retailers must communicate the benefits of warranties throughout the online shopping experience. For example, when a consumer initially clicks on an item, include suggestions in the product description on other items that go well with the product—including warranties. This way, customers see warranty messaging early on in the browsing process.
If warranty protection plans are only positioned as an 'upsell' offering, you can continue to expect low conversion rates. But if relevant messaging is present throughout the website, you can familiarize customers with the benefits of protection before the point of purchase.
Consider website updates
Seventy-one percent of consumers in a recent survey stated that a 'good online customer experience' is vital, and 70 percent claim they will not return to a website after a negative experience. With an easy-to-follow website structure, consumers are more likely to make it to the final checkout page without confusion or the risk of dropping off before finalizing their purchase.
Unsure about how your website stacks up? Answer the following questions:
Does your website have an appealing and modern look and feel?
Does your site accurately reflect the true nature and personality of your business and your team?
Does it offer a warranty landing page that provides clear explanations of the policy terms and conditions?
Is your site a constant and measurable source of new customers, additional business, and increased revenue?
Does your site connect with your customers' needs, desires, and outcomes versus being an online brochure? And…
Is your website mobile optimized? In other words, can it be properly viewed on a smartphone without being virtually impossible to read?
The last question is essential. More than half of internet traffic is on mobile, and that's expected to grow to 75 percent this year. If you're not already on board, consider adding a mobile strategy for viewers to easily access your site and warranty offerings.
Find the right partner
We get it: small and mid-sized retailers may not have the time or resources to implement a full strategy to market warranty offerings. But with a vertically-integrated partner like Fortegra, retailers can access the support they need—from underwriting and compliance, to administrative and marketing support—to seamlessly and efficiently cater to customers.
A partner who can also deliver tech support? Even better. With the increase in complexity of today's smart home and business technology as well as integrated automation, the helping hand of tech support becomes a huge value-add to your customers. Guess what? Fortegra offers that, too.
The long-term benefit
With strategies like these, retailers who ramp up an online warranty sales strategy now can enjoy benefits long term. From an additional line of revenue to increased customer retention rates, a clear online warranty strategy can help set you apart from the competition and let customers know you have their best interest in mind.
For more tips on how to cater to changing consumer trends, check out our blog on how retailers can make customer service a priority in the digital age.