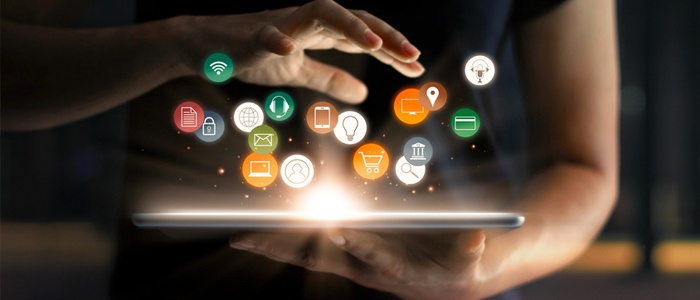 With technology increasingly a part of their lives, consumers are expecting it to be part of the shopping experience, too. How can retailers meet demand?
---
Digital retail has the potential to bring in $2.95 trillion in operating profits by 2025. But even with these kinds of projections, many retailers are still dragging their feet on responding to the digital transformation. Not only are these retailers falling behind on the trend at large, but their delayed adaptation will eventually bring about customer service shortfalls as well.
Research, research, research
It's difficult to develop a strategic customer service plan without, well, your customers. As a retailer, when you take the time to survey customers on their priorities, you'll have a better understanding of how you can step up to meet their needs. So, that's step one. Once you've got the data in hand, lay out what your digital customer experience should look like. For example, do your customers prefer a live online chat system or are they more comfortable texting with a customer service rep? Without proper knowledge on how to cater to customers, you risk losing them before they're even on board.
Test the online process
Think about a positive online experience you've had with a brand. What did you like? Now think about a negative experience. What could you skip next time? Testing your site is an important step to ensure every customer has a positive online experience with your brand. And that includes mobile. 48 percent of consumers say that if a website isn't mobile-friendly, they assume the business simply doesn't care. Yikes – talk about a turn off. The reality is: customers are—and will continue to be—on their phone. Providing a smooth, reliable mobile experience is a must for any retailer.
CVS implemented this strategy to figure out what customers are experiencing. In fact, they created a digital innovation lab solely to focus on the online customer experience. Through research, they discovered that filling prescriptions and checking out were both customer pain points. To fix this problem, they adjusted their app to let customers simply scan the barcode on a previous prescription to get refills. Additionally, CVS made the checkout process easier by allowing customers to store previous payment options on their account profile for quick access. By asking the right questions and paying attention to digital shortfalls, they were able to offer solutions to fit customer needs.
Utilize new avenues for offers
The digital customer experience doesn't end with your website. To entice returning customers, consider implementing an email or texting campaign. Based on where your customers are, you can offer coupons via text or email to generate brick-and-mortar traffic. By tracking the customer journey, you can send coupons for items they've already viewed or maybe have sitting in their cart, pushing them to the point of purchase. To add a sense of urgency, tack a time stamp on the offer as well.
Gap, Inc. is one brand leveraging this to its benefit. They recently adjusted strategy to break down different audiences based on demographics and styles. They can now not only anticipate buying habits based on data and past behavior but also use data content optimization (DCO) to personalize the messaging for each group.
Take your service to social
Last, but certainly not least, retailers should consider a social media strategy for customer service. Approximately 67 percent of consumers turn to social media for customer service issues, and customers will spend 20-40 percent more when companies connect with them on social media. Social media engagement, on some level, is a no-brainer for quick, efficient customer communication.
To get started, take a page from GoDaddy's playbook. When a customer sent a tweet asking about his custom domain, GoDaddy responded and included three key components of a clear customer service interaction: they opened with a friendly response, told the customer exactly what information they needed to resolve the issue, and even included a call-to-action button where the customer could quickly direct message the brand. Customer convenience, on-call.
As technology usage continues to grow, the retail landscape will change more in the next ten years than it has in the last 40. Are you ready?
For more on how to alter your business strategy to attract customers, check out our blog on catering to webrooming and showrooming customers.
Fortegra® is the brand name for the insurance, specialty underwriting and warranty solution operations of Fortegra Financial Corporation and its subsidiaries.