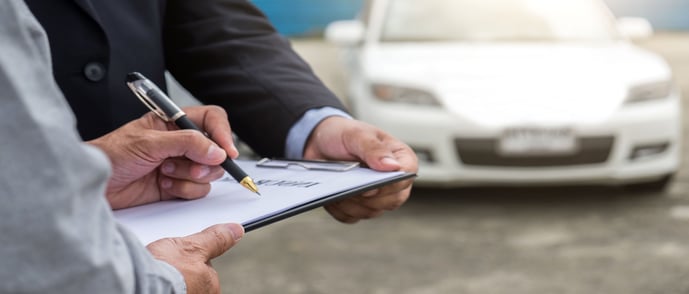 Excess Wear & Use service contracts are an exciting F&I product opportunity for dealers and vehicle lease customers, protecting against repair costs from normal wear and tear.
---
Following the official ratification of New York Senate Bill 3631 in late December 2019, Excess Wear & Use has become the new hot popular product among New York dealers. To help our partners take advantage of this new opportunity, we've detailed a thorough overview of this new program and how it can benefit our partners, dealers and their customers. Plus, Fortegra's compliance department is prepared to assist our partners in the development of their own Excess Wear & Use program and get it to market as quickly as possible in 2020.
What is 'Excess Wear & Use'?
Excess Wear & Use (EWU) programs (used to be commonly called 'wear and tear' or 'EWT') are designed for vehicle leasing agreements to cover the excess damage from day to day use such as paint damage, minor surface dents, and interior damage to the upholstery or carpeting, that a customer would otherwise be charged for at the conclusion of a lease. Although a certain amount of wear and tear is accounted for in the lease terms, a customer is responsible for anything deemed "excessive". With 'excessive' damage being defined as any damages to the vehicle the lessor considers to be outside "normal", it remains a pretty subjective category. As most wear and tear coverage plans don't have a deductible and provide up to a specified benefit amount that will be waived at lease termination, they can provide value if this unlikely scenario occurs.
Dealers will find that offering this type of program will allow them to generate more revenue off of a leased vehicle. The additional revenue stream is a needed source of income for dealers, especially those who lease luxury vehicles. Customers will feel more comfortable entering into their lease agreement knowing that they won't be blindsided by repair fees upon returning the vehicles at the end of the lease term. This peace of mind will open up more customers to the option of leasing, which hopefully creates a long term relationship and repeat business with the dealership who protected them at the start.
Take Advantage of the New Opportunity
Fortegra and our veteran Underwriting team are ready to develop and help our partners implement EWU programs in new states while providing the required insurance backing based on state regulations. Fortegra's "A-" rated insurance subsidiaries will continue to provide the market properly insured programs that help our partners, dealers and consumers experience more protection from the hassle of minor damage caused by daily wear and use. No more worries about exceeding the preset lease wear use limit in your agreement for paint chips or scratches, small surface dents or dings, and minor interior damage to upholstery or carpeting. EWU programs will be available in all states except Washington and Alaska. However, our Compliance team has recommended that we caution all our partners to be prepared for change, as the new EWU contracts may be subject to NY Senate bill 6953, which may impact the program benefits in the future. If this Senate bill passes, rest assured that Fortegra's Compliance and Underwriting staff will work with our partners to handle any potential changes to the legislation and work to get your Excess Wear & Use program to market faster than the competition. Reach out to our Automotive Product Group at Fortegra to learn more, today!
Fortegra® is the marketing name for the service contract and insurance operations of the subsidiaries of Fortegra Financial Corporation.