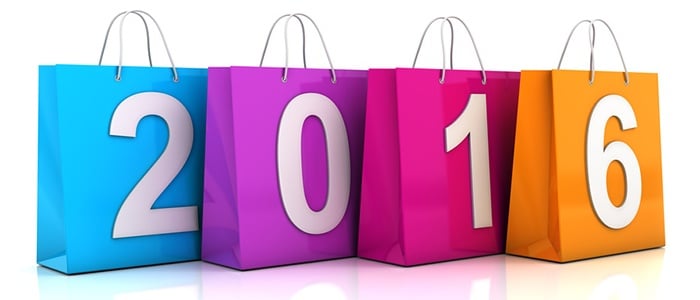 Resolve to stay retail relevant in 2016!
There's no arguing that the retail industry has really changed in recent years. (Maybe not a change like Miley's transition from Hannah Montana, but still…) With their landscape constantly evolving, retailers must move their sights from traditional sales strategies to engage customers in new ways.
So, how exactly has the retail industry changed and how can you stay relevant? We've put together a list of three 2016 predictions that you can leverage to run with the big dogs in the coming year:
Get on board the omni-channel choo-choo…or get left behind.

Google Research shows that 98 percent of Americans switch from device to device throughout the day. And, because of this, companies with strong mullti-channel customer reach keep on average 89 percent of their customers, compared to just 33 percent for companies who haven't jumped aboard the omni-channel express.

Your customers—who we assume you'd like to keep—want a seamless brand experience between physical and online environments. They're looking at these two locations as interchangeable, which has led to both more webrooming and more showrooming. These methods of shopping inform customers, helping them narrow their choices before walking in the store or logging on to your website to make a purchase. So, whether you like it or not, you won't be able to influence their buying decisions quite as much later in the sales process.

Many industries have already got a ticket to on-demand land.

In a world where you grab an Uber instead of a taxi, and get your movies from Netflix instead of a video rental store, it's obvious that on-demand is on the rise.

And the retail industry won't be left behind. From personal shoppers at clothing stores like Topshop and Macy's, to Amazon's same-day delivery or Curbside's unique merch distribution method, brands are making the buying process speedier—and a bit less hectic—for people who don't have time or want the extra help. Don't you want to come along for the ride?

In-store restaurants are popping up and dishing it out.

It was just a matter of time before retailers realized that food really is the way to their customers' hearts.

Stores like Ikea, Target, and Bass Pro Shop have figured out that that they can draw in more customers—and keep them at the store longer—if it's easier for them to grab some grub. Now retailers like Nordstrom and Macy's are joining in to keep shoppers' stomachs happy. So, whether it's sit-down or fast casual, popping a restaurant into your space could be the key to keeping customers around longer.
What trends do you think will impact retail in 2016? Tweet @Fortegra to let us know!