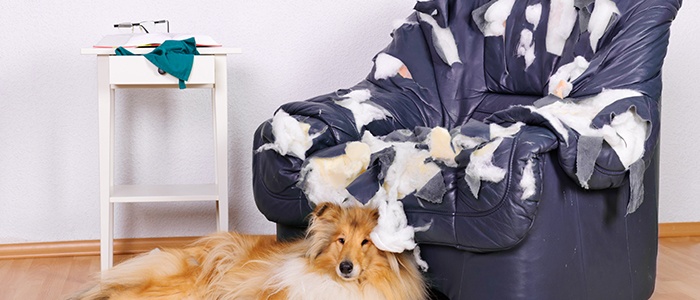 These days, most furniture warranties fall into one of two categories. Does one hold an advantage over the other?
When it comes to furniture protection plans there are two types retailers can offer – Wet and Dry. Which one is best? Well, that depends on what you and your customers are looking for (especially if they have a dog, kids, or like to carb load while binge watching some Netflix).
Let's take a look at how they each measure up.
Wet Furniture Warranty
A Wet product and service contract gets its name from the chemical spray or wipe applied to the furniture. The chemical treatment can be performed by the retailer or given to the consumer for home application. A Wet policy may be more attractive to your DIY customers.
Many Wet warranties have two parts to them: a protection spray applied at the time of purchase and a clean up kit for small, everyday stains.
Most Wet warranties are actually product warranties that cover only the chemicals. There is actually no protection on the furniture itself. This can surprise a lot of people.
Pros
A pre-spray does make the furniture more resilient to stains. Think of it as a protective armor against household stains.
Wet warranties that provide a clean up kit are great for taking care of minor stains without the need for a claim.
By walking out of the store with an actual protection product in their hands, consumers often feel more confident in their purchase.
Cons
Some protective treatments can produce an unfavorable effect on fabric and other furniture upholstery, which may alter the natural appearance. (It's always good to test on an inconspicuous area.)
Some Wet warranty companies will deny or push back on claims, relying on the clean up kit to handle the job.
Perhaps the biggest issue, since Wet policies apply to the performance of the chemical treatment rather than the furniture itself, coverage can be limited and claims may be denied.
Dry Furniture Warranty
Dry warranties operate just like an extended service contract a customer might get on a major electronic, mobile device, or household appliance.
Typically these service contracts are provided by insurance or warranty companies and cover the actual piece of furniture.
Pros
A good Dry warranty is fully licensed and complaint. As regulators start to pay more attention to furniture service plans, having one available can be a huge retailer benefit.
Dry warranty companies, for the most part, only do Dry warranties. So claims processing and customer service are paramount to their business.
Dry warranties provide a clear understanding of what's covered and most cases they cover more than a Wet product.
Good to go and covered from day one, with Dry warranties there's absolutely no need to remember to apply a chemical treatment.
Cons
There's no tangible item for Dry warranty customers to take away from the point of sale.
All Dry warranty repairs require a claim to be filed.
So, What's The Call?
Like any good pro-con list, the answer is 'it depends.' Can the retailer, or a warranty partner, handle the claims that come with dry furniture warranties? Will the customer be okay with the changes in fabric appearance that come with a wet furniture warranty? To determine which option is best, it's important to consider the needs of both the retailer and consumer.