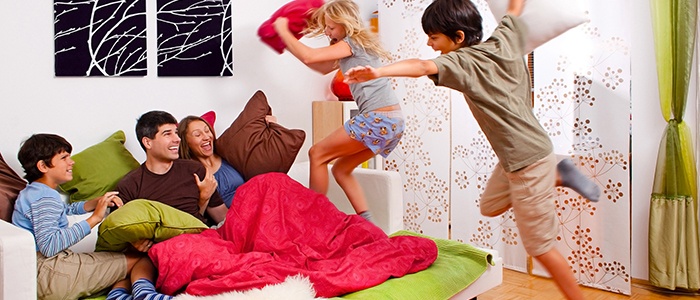 Transition the conversation, learn more about your customers, and sell more furniture warranties. Here are nine key questions to point the way.
Warranties for big dollar items like new furniture would seem to be an easy fit. But transitioning conversation with your customers from drapery colors to protection plans? That's a little tougher.
Imagine if we just stopped talking about furniture warranties right now and started talking about golf. You'd be confused and, maybe, put off. You might actually stop reading. (Unless you really like golf. In which case, you'd still just be confused.)
Confusing customers or saying something that encourages them to stop listening is the last thing you want to do in the middle of trying to close a sale. Thankfully, there are ways to introduce furniture warranty while keeping the conversation fluid. Here are just a few:
#1 – Do you have young children?
Whether it's building forts, jumping on beds, or the weekly Kool-Aid accident, children are some of the worst offenders when it comes to furniture abuse. If you're selling furniture to parents of small children, warranties are a natural fit. And let's be honest: teens and tweens aren't without their own mishaps. Even someone with older children at home can be a candidate for a protection plan. Make sure to come with examples of things that kids of all ages (and even grown-ups!) might do to damage furniture.
#2 – What kind of pets do you have?
People love their pets; but as any puppy parent has discovered, pets can do a number on everything from floors to furniture. If your customer shares a house with man's best friend, you have a natural avenue to ease into a conversation about why he or she needs a furniture warranty.
#3 – What room are you putting the furniture in?
Is that new sofa going in the family room next to the kitchen? Maybe it's destined for the man cave. When placed in certain high-use areas of the home, furniture can be at higher risk for spills and other damage than if they might be in, say, the 'no-no room'.
#4 – What is the traffic pattern in the room?
Do people walk through this room to get to the backyard? Is this where they keep the dog bed? Understanding how a customer's home is laid out and the furniture that will be used in certain rooms opens up opportunities to discuss a variety of protection options.
#5 – Will the furniture consistently be exposed to direct heat?
#6 – Will the furniture consistently be exposed to direct sunlight?
Both direct heat and sunlight can fade or dry out furniture – especially leather pieces. Although protection plans do not necessarily cover damage from the sun or heat, discussing these challenges can help open the conversation about other ways furniture can be covered.
#7 – How long do you expect the furniture to last?
Understanding your customer's expectations can help you provide suggestions on how to make that big investment last, including options for repair or full replacement.
#8 – Do you plan on moving this furniture to another room at a later date?
Asking about future plans for the furniture is another good way to judge how long the customer expects the piece to last.
#9 – Are you replacing existing furniture, or is this your first purchase of this type of furniture?
Information about furniture history can help uncover past issues and situations that could lead to future problem. Was a glass of wine spilled in the past? Did the kids ruin the last couch? Bingo! You have a perfect segue to discuss protecting this new piece of furniture.
From minor mishaps to full-scale furniture incidents, Fortegra has protection plans that can make your customer's big investments last.
Are you looking for a furniture warranty partner? Learn more about more about our coverage options today.