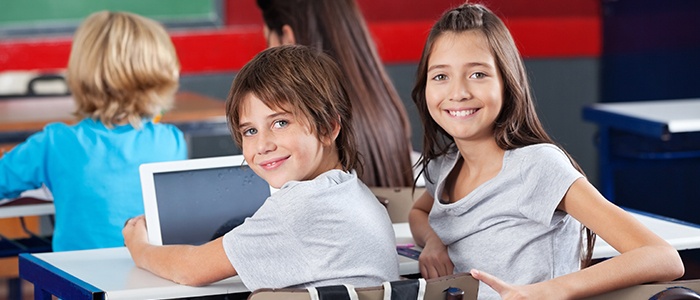 Aren't familiar with how mobile is impacting education? Here's a crash course in mobile edtech.
Want proof that teens love mobile? Check this out: according to a recent survey of British youth, teens in the U.K. spend more than one full day a week online! In another study by Pew Research, 24 percent admit they're continually checking their mobile devices, even at school.
Teenagers might be glued to their smartphones, but those aren't the only mobile devices they're likely to use on a regular basis. The use of technology in education (aka 'edtech') also has students using school-issued mobile devices, including tablets, in the classroom.
If you aren't familiar with how this technology is impacting schools, don't worry; we've got you covered in this mobile edtech crash course:
Lesson #1: Mobile Edtech Is (Almost) Everywhere
According to a report issued by Project Tomorrow, 33 percent of U.S. high schoolers are equipped with school-issued mobile devices, and 31 percent of middle school and elementary students have one in hand as well.
And, depending who's surveyed, the percentage can be even higher. According to a Pew Research Center online survey, 43 percent of Advanced Placement and National Writing Project teachers in middle and high schools say they or their students use a tablet computer in the classroom.
While the adoption of mobile devices might seem like a more natural fit for certain school districts, the use of this technology isn't reserved to private or large schools. In an article for THE Journal, David Nagel reports that among 'high schoolers in Title I schools, 32 percent use school-issued mobile devices (only slightly less than the 33 percent national average). 30 percent of middle school students in Title I schools also use school-issued devices. Twenty-five percent of elementary (grade 3–5) students in Title I schools use school-issued devices.'
Lesson #2: iPads Aren't The Only Game In Town
When you think tablets in schools, you likely think iPad, and with good reason. Education continues to be the industry with the most iOS activations; 83 percent according to a recent CIO.com article.
However, both Google's Chromebook and Microsoft's Surface 3 provide edtech products that have made news of late. As Dian Schaffhauser explains in a recent article for THE Journal, Chromebook is, 'definitely filling a gap that addresses specific education needs' and is shining in education for three reasons: price, form factor, and simple device management. Not to be outdone, Microsoft is making its presence felt by offering two deals to schools – a 10% discount to those who buy the Surface 3, Type Cover, and stylus as bundle, and a new 'unique Surface 3 configuration' exclusively for schools and other educational institutions.
Lesson #3: Get The Piggybank Ready
Even with special discounts for educational institutions, cost is often number one on the list of challenges for schools looking to implement mobile. Just imagine you're the
Los Angeles Unified School District, which planned to purchase approximately 45,000 iPads. Even though the district received a $200 discount off each standard iPad, the cost for the district was still estimated at $30 million!
And purchasing devices is only where the cost of mobile edtech starts. Broken and lost equipment can also lead to additional financial burdens for schools and other educational institutions. For that reason, it's important for schools to consider the life of the device and not just the purchase cost.
Educators should ask themselves:
What will be done when a device breaks?
Will devices need to be shipped out for repairs?
How long will the school be without the device?
Sure, a mobile device repair center might be a good option, but it will be important for schools to consider these potential costs.
School administrators should also consider what happens if the device cannot be repaired. Some schools may choose to budget for replacement devices; others may opt for a mobile protection plan – like ProtectCELL – that covers damage for any reason. (While we're on the topic, the ProtectCELL line of mobile protection plans and services, also offers a BuyBack option designed to help offset the sticker price when purchasing a new device.) Budgeting for both replacements and protection plans addresses potential mobile edtech issues, but each approaches the lifecycle of a device differently.
Pop Quiz: What factor do you expect to have the biggest impact on technology in education? Tweet us at @Fortegra using hashtag #edtech and let us know!