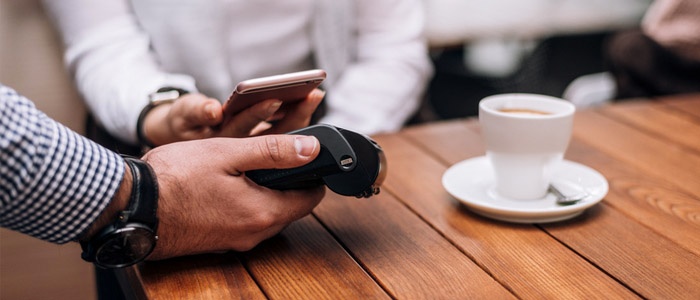 Will the advancement of scan-and-go, cashier-less stores, and mobile payment signal the end of physical retail?
---
Over the last two decades, the way we exchange currency has changed dramatically. Bills, coins, and checks, while still around, have largely been traded in for the ease of debit and credit cards – we can even purchase goods with a scan of our mobile phone or send and receive funds via apps like Venmo and PayPal.
And while all of these tools have increased consumer convenience, what does it mean for the future of physical retail? From cashier-less stores to scan-and-go options, retailers are about to experience a serious shift in consumer purchasing patterns.
Thankfully, a number of well-known brands are providing a blueprint on how to keep up with the ways payment is changing.
Scan-and-Go
Scan-and-go is exactly as simple as it sounds. This innovative option allows consumers to scan items using a mobile app, pay for them through the app, and walk out the door—skipping the checkout line completely. Membership warehouse Sam's Club is leading the initiative, featuring scan-and-go technology in 600 stores. And, according to Sam's Club, the payment option's popularity is on the rise, with scan-and-go usage doubling over the past year.
Scan-and-go can enhance the customer experience, too, allowing store associates to move away from checkout and onto the floor to assist customers. While grocers are adopting scan-and-go quicker than most, they aren't the only ones pioneering the trend. Dollar General recently introduced DG Go!, which sends coupons and alerts to in-store customers who are using the app—rewarding those customers for shopping on site, and reinforcing brand loyalty in the process.
Cashier-less stores
Imagine shopping at a store with no cashiers. You simply walk in, make your selections, and walk out. No line. No credit card. No hassle.
By now you may be familiar with Amazon Go, which burst on the scene in major U.S. cities nearly a year ago: customers scan their phone upon entry, and as they grab items off shelves Amazon Go tracks their purchases. Pretty neat, right?
But there are a few issues you may want to evaluate before implementing this type of system at your retail location. First and foremost, will you alienate a portion of your target consumer with this type of shopping experience? With Amazon Go, for example, only Amazon members have the capability to experience the cashier-less option. How will non-members pay without a physical checkout?
Mobile pay
Unlike scan-and-go options and cashier-less stores, mobile pay still requires customers to shop 'traditionally': load the cart and head to the checkout line. But with a simple scan of the customer's smart device, the act of payment is lightning quick. In addition to the speed, mobile pay can also decrease security concerns like card skimming and, in turn, retailer liability.
Because of these benefits, mobile pay technology is projected to triple by 2021 reaching $282 billion in U.S. sales. Apple Pay is out front on the effort with mobile pay tied into consumer accounts which allow them to pay via their phone, iPad, or even their Apple Watch. Given its relationship to current consumer habits along with the ease of implementation, mobile pay is looking like the simplest transition for retailers taking their first steps toward digital payment.
Looking ahead
Sure, many retailers may be hesitant to incorporate any of the above options due to concerns about consumer theft or the reliability of new technology – but oftentimes competition outweighs risk. The future of payment will continue to transform. How will you adapt to stay ahead of your competitors?
For more insights on digital developments in the retail industry, check out our blog on how mobile is leading digital transformation, including how Starbucks is using apps to improve the customer experience.
Fortegra® is the brand name for the insurance, specialty underwriting and warranty solution operations of Fortegra Financial Corporation and its subsidiaries.