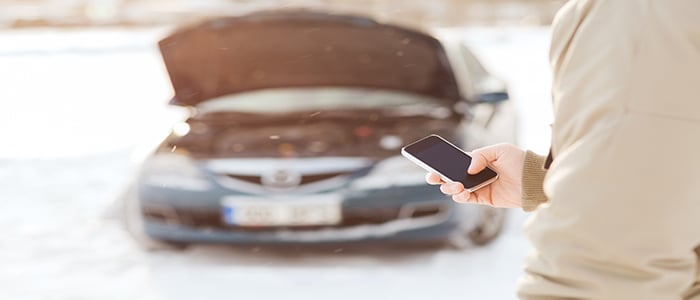 Roadside assistance tips to avoid being stranded on the side of the road this holiday season and winter.
---
Already this year, Thanksgiving weekend saw the number of travelers on the roads reach record highs. As we enter the holiday season and press into the rest of the winter season, we'll see traffic levels only continue to increase, the weather deteriorates, and road conditions worsen leading to perilous driving for holiday travelers and daily commuters alike. Accidents are inevitable, but there are plenty of preventative measures to keep your wheels on the road and heading towards your destination.
How to avoid problems on the road—
With Your Tires:
Issues with tires account for more than half of all roadside breakdowns. Yet, ensuring you have proper tread length and the right PSI levels in your tires are all it takes to prevent most of these issues. Tire tread thickness is crucial to maintaining your traction and control on the winter roads. To check if your tires are bald, try doing the penny test to determine if your tread length is acceptable. What often leads to tire baldness is underinflation, as tires that are 10 percent underinflated cause tread life to decrease by 9-16 percent.

With Your Battery:
Frigid temperatures can greatly affect your car's battery and experiencing battery failure can leave you stranded in a roadside emergency or stuck in your driveway. Take some time at the beginning of the winter season to have your battery tested and have its terminals checked and cleaned for corrosion. As a rule of thumb, your battery should be tested every year after the first three years.
With Your Keys:
We've all done it, accidentally locking your keys in your car, but in the winter months, you risk not just being late to your destination but exposing yourself to dangerous weather. An easy way to prevent this mishap, keep a spare key on your person, or with someone who can potentially come to your rescue, or consider purchasing a magnetic key case to put underneath your vehicle.
With Mechanical Issues:
Mechanical failures and breakdowns with your engine, transmission, or brakes can leave you stranded on the side of the road in a dangerous position. Preventative maintenance by getting regular inspections and oil changes every 3,000 - 5,000 miles will allow trained professionals to keep tabs on the state of your vehicle and make sure you're not on the verge of a breakdown.
Additional Safety Tips to Use When You are Facing a Roadside Emergency:
Make sure you have pulled your vehicle as far off of the road as possible.
If possible, keep the vehicle facing the direction away from traffic.
Turn on your hazard lights.
It is best to get as far away from traffic as possible exiting the vehicle using the doors opposite passing traffic.
If you are unable to get to a safe location, stay in the vehicle with your seatbelt on.
How Fortegra's Motor Clubs Can Keep You Safe
Ultimately, even with these preventative measures and routine maintenance in place, accidents and breakdowns can't be avoided altogether. Having dependable roadside assistance service, like one of Fortegra's three motor clubs, is the best way to ensure you and your loved one's safety out on the road.
With the following motor club features, you'll be ready for whatever the roads throw at you this winter:
Emergency Roadside Assistance
Towing assistance up to 50 miles
Lockout Service
Flat Tire Repair
Battery Charge
Fuel Delivery
And Many Other Benefits
So put your mind at ease while traveling this holiday season and throughout the rest of the winter, by safeguarding your family in the case of an emergency with a dependable and affordable roadside solution.