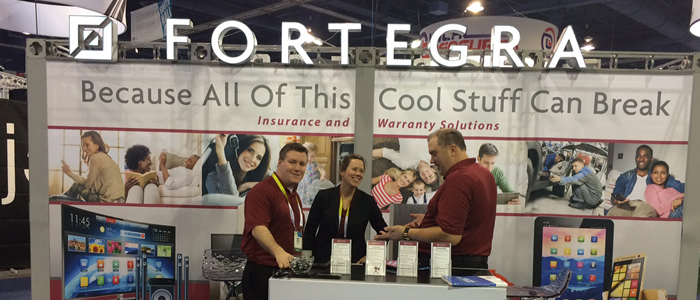 Fortegra brings its new brand of protection products to the world's biggest gizmo show…because all of this cool stuff can break.
Another CES. Another success.
For the third straight year Fortegra attended the International Consumer Electronics Show in Las Vegas, and this time we brought along some really big news. Taking advantage of the occasion, we decided to officially announce the unification of several of our companies and show off our new brand.
With our wide array of everyday protection products for everything from fancy phones to essential appliances, CES – earth's greatest tech expo – is an ideal fit and a key stop for us on the trade show schedule.
Leaving Our Mark
In addition to our snazzy booth space at the convention center where we educated partners and consumers on the Fortegra product lineup, we made sure our presence was felt throughout Sin City…and in the press!
Pubs like Gear Diary, Tech Talk, and Automotive Digest and others threw Fortegra some love while we enjoyed rap sessions with top clients and prospective partners from across the country in our luxurious private suites at the Venetian Hotel. It was a great opportunity to bring our valuable vendors up to speed on how to diversify their plan portfolio and maximize commissions while protecting their customers with the new Fortegra.
Things Are Looking Up
Of course, since we were in Vegas, we made sure to take a break for some fun on the Strip. As a follow up to our hit CTIA shindig, SkyHigh550 returned to the High Roller at The LINQ where our guests took in some tunes, cut a rug, and enjoyed a spin on the world's tallest observation wheel high above the desert.
It was a great way to cap a truly monumental CES for the new Fortegra. We're looking forward to a landmark year in 2015 and we'd love to have you along for the ride. Join us and Experience More!