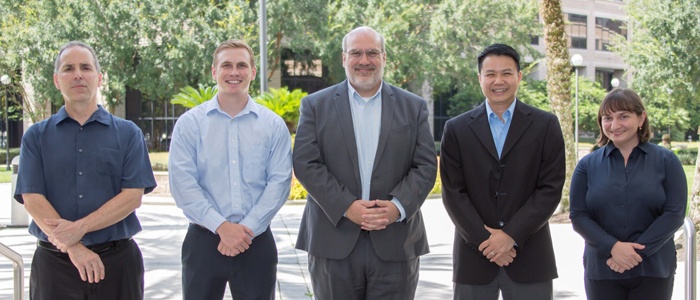 To better serve our clients, Fortegra has been expanding our underwriting team with talented and experienced professionals, improving our underwriting, actuarial, and product management capabilities.
---
Collaborating enterprise-wide—from Sales to Account Management, Compliance, Finance, IT, and so on—is no easy task. But the team players on Fortegra's Underwriting squad pull it off daily. What exactly do our underwriters do to help clients and customers Experience More and make our organization run smoothly? Well, in addition to being really great people, our underwriters:
Provide proactive product and program recommendations to enhance profitability

Perform ongoing competitor analysis and communicate up-to-date market intelligence

Present frequent, mutually-beneficial program experience reviews for Fortegra accounts
As you might expect, none of this happens without a talented team possessing a scope of underwriting, actuarial and product management experience that spans the industry – and that team continues to grow! With business on the move, we've been staffing up to ensure Fortegra keeps pace with the competition.
Led by Vice President of Underwriting & Product Management Jessica Archuleta, here are three key players we've recently added to the Fortegra roster.
Souvanna Southammavong

Director of Warranty & Consumer Products Underwriting
University of Northern Iowa, Iowa State University (MBA)

An experienced automotive and homeowners insurance product management veteran, Souvanna boasts more than 15 years leading Top 25 P&C carriers like Nationwide and Kemper. Joining the team as Director of Warranty & Consumer Products Underwriting in spring 2018, he now applies that experience to help Fortegra drive profitable warranty channel growth with a primary focus on automotive.
Tim Lash

Director of Underwriting Data & Reporting
Ohio University

An analytics whiz, Tim has spent nearly two decades building data warehouses, dashboards, and report portals as well as performing actuarial pricing and data evaluation for companies like Kemper and Brightway. Arriving in June of 2018, he's brought his talents to Fortegra where he leverages data to cultivate key insights for the company and its clients.
Kyle Koesling

Senior Actuarial Analyst
Florida State University

A homegrown product, Kyle flourished as part of Fortegra's Leadership Development Program (LDP) before joining the company full-time in early 2018. As a member of the underwriting team, Kyle focuses on efficient risk management and profit maximization for Fortegra's warranty and consumer products. He's currently studying to become a Fellow with the Casualty Actuarial Society.
––––––––––––––––
Quite a lineup. Check in on our next newsletter as we take a look at Jessica and the rest of the Fortegra Underwriting team in part two!
Fortegra® is the marketing name for the extended warranty operations of Fortegra Financial Corporation and its subsidiaries.