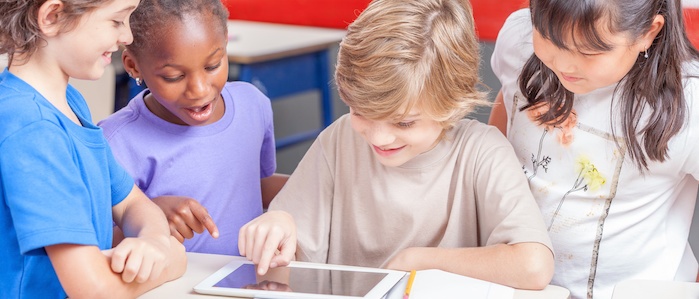 One-to-one classrooms – those that equip every student with a laptop or tablet – present unique challenges for educators. Here are just a few ways teachers can get their classrooms one-to-one ready.
Remember when 'back-to-school' meant begging mom for Yikes pencils or Gelly Roll pens, and covering your textbooks in brown paper bags? Ah, yes. Those were simple times. But today's students have traded in those Trapper Keepers for some serious, new technology.
And these kids aren't carrying just their mobile devices to school; they're using tablets and other edtech devices to complete assignments every day. In fact, according to a 2014 Pearson survey conducted by Harris Interactive, 44 percent of elementary school students used a laptop, notebook, or Chromebook computer two or more times a week last year!
While the rest of us might be wondering how these kids get to log so many hours in the computer lab (they're likely really good at Oregon Trail by now), teachers know better. One-to-one classrooms, equipped with a laptop or tablet for every student, are becoming increasingly common.
Preparing for a One-to-One Classroom
As you might imagine, this influx of technology is challenging school districts that have never had to manage so many devices. But it's also challenging teachers who must now learn to integrate new technology they might be unfamiliar with.
In a recent article for eSchool News, Diana Neebe and Jen Roberts – authors and educators who both teach in this setting – shared 10 one-to-one classroom tips for educators to use this summer as they prep for the new school year. We took the liberty of pulling a few favorites:
Learn the nuts and bolts. Although schools sometimes provide training for new technology and teaching in a one-to-one classroom setting, as Diana and Jen point out, it's important for educators to find their own training. For specialized aspects of new technology, the pair recommends heading to YouTube to take in a few helpful tutorials
Log in to your Learning Management System (LMS). According to Diana and Jen, most one-to-one programs require or, at least, recommend a portal where teachers can 'post assignments and discussion questions, and collect student's digital work.' They suggest logging in during the summer to set up class pages and learn the system.
Plan to collaborate. It might sound obvious, but digital classrooms call for digital resources. Some can be found online, others will need to be created or borrowed from other teachers. The benefit is that digital resources – including links to articles, videos, and helpful websites – are easily sharable. So, teachers should check in with colleagues to see how they can work together.
Expect setbacks. When tech fails, Diana and Jen recommend a deep breath, a positive attitude, and a backup plan. Tablets and other one-to-one tech devices are a big investment, but for districts with school tablet protection and other measures in place, even a cracked, smashed, or lost device doesn't have to spell disaster.
How does your school use technology? Are you getting ready for one-to-one deployment or do you have a few years of m-learning under your belt? We want to hear about your biggest edtech challenges. Leave us a comment, or Tweet us at @Fortegra to let us know!