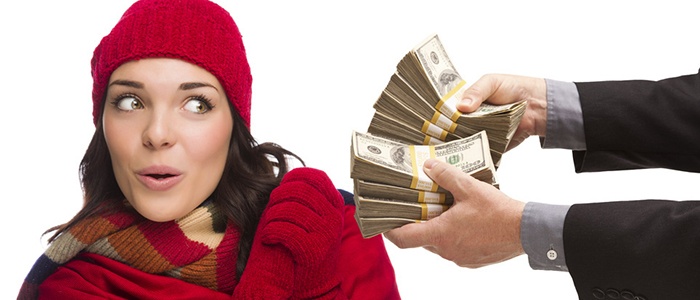 Make the most of the holiday rush with these four quick and easy sales tips.
They don't call it Black Friday for nothin'.
This year's holiday sales are projected to trend four percent higher than last year, according to the latest retail holiday sales forecast from Deloitte. That means there could be as much as $965 billion—that's 'billion' with a 'b'—spent on shopping between November and January.
So, how's that holiday appetite? As a retailer, what can you do to take advantage of this seasonal surge and put your books back in the black?
The answer: strategy. Having a strategic sales plan in place before the holidays roll around will enable you to be a top retail player. And it's why we created these four holiday sales tips to make sure you're seeing more green than red this holiday season.
Tip #1: Make sure time is on your side.
Holiday messaging before Halloween can spook customers. (Nobody wants to kiss a skeleton under the mistletoe.)
According to Outbrain's recent holiday content study, most marketers deliver their holiday content during the first half of November, but consumers' interaction with it doesn't peak until late November and early December.
Slow down your holiday messaging and use the time leading up to peak season to create a targeted, well-timed plan for the actual holiday rush.
Tip #2: Don't discount mobile.
Everywhere you look, it's easy to spot people staring at their phones. But, believe it or not, texting isn't the only thing causing this phenomenon.
Many shoppers have moved to mobile, making it more important than ever during the holiday season. In a study by Synchrony Financial, 45 percent of all respondents said they used a mobile device to perform a shopping-related task (think researching, sharing, purchasing, or reviewing) in 2015. And there are a growing number of mobile-only shoppers, too: 13 percent of internet users now access retail destinations, whether their sites or apps, using only mobile devices to do so (source: comScore).
With this in mind, make sure your mobile site is easy to find and easy to use. If shoppers encounter a site that's poorly designed or takes too long to load, you're going to lose sales.
Tip #3: Use showrooming to your advantage.
'What's your web address?' 'Can I get Wi-Fi in here?' 'Do you have an app?'
You've likely heard at least one of these questions before.
Showrooming is huge during the holiday season. According to one report, 75 percent of shoppers use their mobile phone while in the store, with 25 percent of those patrons actually using a mobile device to make a purchase while they're there.
The good news? Apps win with showroomers. 55 percent of shoppers who responded to Cisco's fifth annual retail survey said they'll use a retailer's app while shopping, and 34 percent claimed to use a third-party app for the same purpose. If you want to provide a convenient and efficient shopping experience that gives you the ability to deliver special offers as customers walk in the store, get in on the app action.
Tip #4: Simplify buying.
Listen, if your unflappable Uncle Larry is stressed out during the holidays, you'd better believe many of your customers are. Is it the hustle? The bustle? The visions of dancing sugar plums? Whatever it is, calm their minds and help them out by making buying extra easy, whenever and wherever the urge strikes.
Employing methods like promotional email offers or just simply giving your employees extra product training will make the holiday purchase process much easier for your customers. In fact, they're already telling you as much: Outbrain found headlines related to shopping had a 21 percent higher click-through rate than other holiday content. And, let's face it: a little more product knowledge never hurt anyone. (Your employees are probably stressed too).
Think your business could benefit from these strategies? Tweet @Fortegra and tell us which tips you plan to share with your team!