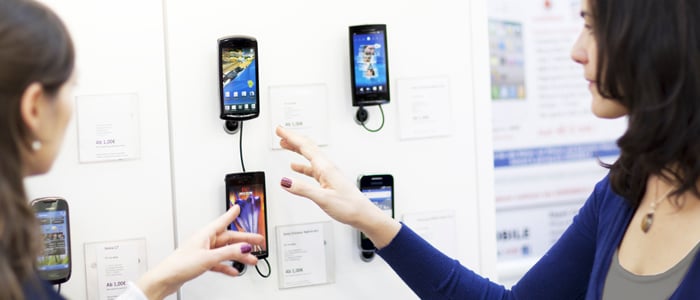 In a competitive market, it's becoming increasingly difficult for regional wireless carriers to remain relevant. But a closer look offers opportunity.
---
For regional wireless carriers facing off with the Big Four—AT&T, Sprint, T-Mobile, and Verizon—the current state of business is a grind and leaves many to wonder how they can keep up. But, believe it or not, regional carriers are better positioned to take advantage of certain opportunities than their bigger competitors.
#1: Maintain positive customer relationships
Customer satisfaction leads to customer loyalty—and increased revenue. In fact, when happy customers return at a clip of just five percent, companies can see up to 95 percent increase in profit. With numbers like that, it's essential that regional carriers put customer relationships at the forefront of their business strategy.
So, where to start? Localized messaging and services are a great way to stand apart from the big carriers. For example, regional carriers are nimble enough to respond to customer issues or questions more quickly than their national competitors. With a narrowed focus on a more specific customer base, regional carriers can personalize the customer experience. From locally relevant social media messaging to more relatable employee interactions, these collective efforts keep customers happy and engaged long term.
#2: Reach for new revenue lines
At an average of 2.83 years, consumers are holding on to their phones longer. And given the cost of new device models, it's no surprise, really. The latest iPhone, for example, rings in at more than a grand. But with customers lining up for the latest and greatest less frequently, trimming touchpoints and reducing revenue, this is a problem for many wireless carriers.
Wireless carriers in this limited-touchpoint pickle should consider offering value added services like warranty protection plans to safeguard customers' devices. These products not only help carriers repair the bottom line by boosting average revenue per user (ARPU), but also further reinforce long-term customer satisfaction.
#3: Embrace your niche
It's easy to get caught up in major industry changes like the Sprint-T-Mobile merger. But, as a regional carrier, you don't want to lose sight of the fundamentals. Regional carriers have an opportunity to focus on local and further establish their niche versus big competitors with innovative offerings that appeal to the needs of their customer base. For example, a regional carrier in a rural community could take advantage of its local presence by equipping remote school buses with Wi-Fi so students can do homework on their long ride home. Taking advantage of opportunities like these can help a regional operation outmaneuver larger carriers who don't have the time or local resources to provide similar options.
Regional carriers: don't be intimidated by industry change! Instead, focus on the opportunities that are just around the corner to help you stand out within your community.
Looking for more ways to maximize your efforts and remain competitive? Check out these three resolutions for wireless carriers in 2019.