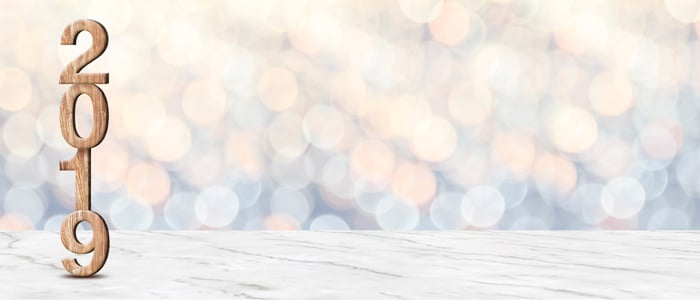 Welcome to 2019. Here's how you can take a look back and prepare for success in the year ahead.
---
In every walk of life, it's always good to take a look back when the calendar flips. Where did you start and how did you finish? What did you do well and what could you have done better?
Find some healthy changes you might be able to make to improve your wireless business? As the new year rolls in, here are a few recommendations we can offer that might help make your 2019 the best year yet.
Resolution #1: Ensure partners offer the complete package
As a wireless retailer, you likely rely on a variety of partners—from your supply chain to your warranty protection program. But even if you don't have a lengthy partner roster, that doesn't mean you should compromise on quality. When evaluating partners for the new year and beyond, it's important to look at current and potential options to ensure they'll be able to meet you and your customers' needs as they evolve, providing a level of partnership that goes beyond a contract. Consider their reputation, culture, offerings, and the value they add to your company. A positive partner relationship will serve both your business and your customers best in the long run.
Resolution #2: Maximize revenue opportunities
As the calendar turns, revenue numbers are always top of mind. Did you maximize revenue in 2018? What are some fresh options to give your revenue a boost in 2019? These can be difficult questions to ask, but with the right partners in place, the answers may come easier. For example, a warranty protection partner can not only help keep your customers happy by safeguarding their devices, but they can also provide you with a new line of revenue.
Additionally, the right protection partner can also offer services that can drive that revenue even further—like engaging sales team training and practical marketing support that can help you better position your business. When your team understands their products, how to market them, and who to target, they can produce more sales. In fact, Gallup research states that when employees are engaged internally companies experience 27 percent higher profits and 50 percent higher sales.
Resolution #3: Offer an exceptional customer experience
Customer service never goes out of style—no matter the year. As you might imagine, great partners can also play a key role in making the customer experience exceptional. Over the past year, did you see a lot of customers coming in with broken devices that sent them into a spiral? If so, it's time to put on your customer service hat and implement a partnership that can help keep those at-risk customers protected—and, in turn, happy and loyal.
When wireless retailers focus on the partnerships and experiences that best serve their current and potential customers, it creates an opportunity for growth. Planning for the new year is a great time to consider how your offerings can stay relevant in the ever-changing wireless industry—and set you apart from the competition. For more on how to maximize your wireless sales, check out these four tips to perfecting your script.
Fortegra® is the brand name for the insurance, specialty underwriting and warranty solution operations of Fortegra Financial Corporation and its subsidiaries.