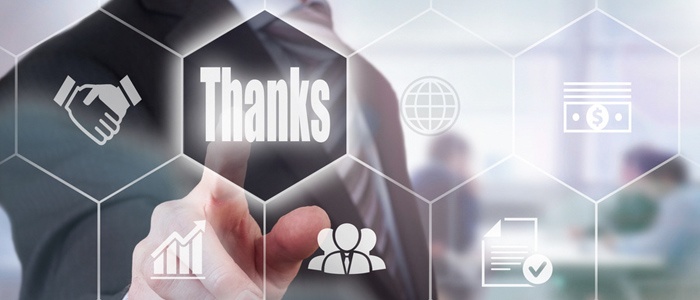 Little value-adds can make a huge of difference—and have your customers giving thanks this holiday season.
---
The season of thanks is upon us, and whether you're selling furniture, electronics, vehicles, or something else, there are some easy ways you can make customers thankful for you this year. As you take steps to keep shoppers happy, you'll build loyalty within your customer base, leading to fewer one-and-done trips and more repeat sales—benefiting your bottom line.
So, how can you encourage customer gratitude and keep them coming back for more? Start by adding more value to their purchases.
Accompanying products
All too often, retailers ignore the full potential of a sale by treating the original purchase as the end of the experience. Instead, keep the conversation going by offering helpful products to complement their purchase. And even if you don't make the extra sale at the register, a new purchase offers the ideal opportunity to follow up via email or direct mail to promote and offer other value-adds, like discounts on accompanying items.
OEM warranty solutions
Life is full of unexpected surprises, and customers never know when they'll need to repair or replace their purchase. Help them get ahead of any unexpected costs by offering OEM warranty solutions that provide additional protection, like covering repair expenses for example. These solutions come in various shapes and sizes, so be sure to work with a partner that can customize your offerings for the unique needs of your customers.
Customer loyalty program
While customer loyalty programs are relatively simple to put in place, they have the potential to deliver substantial benefits to not only your customers, but also your bottom line. Keep your customers coming back for more by rewarding their purchases with exclusive offers and additional savings. You can also take your loyalty program a step further though hyper-personalized offerings created from past purchase data.
You don't have to settle for 'good enough' this season. Make your customers thankful that you're around by improving each and every experience through value-adds that set you apart from the competition.
Want to know more about how to keep your customers coming back? Check out our blog exploring customer service strategies that build brand loyalty!