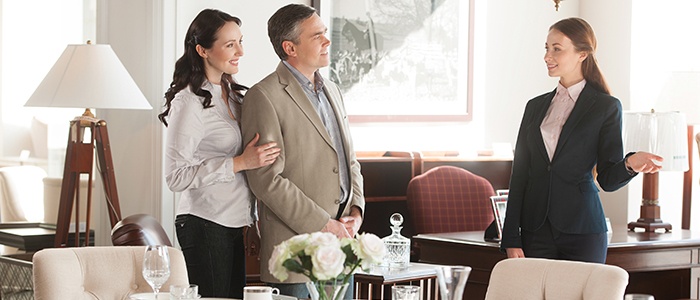 Struggling to draw in customers? Here's how you and furniture retailers everywhere can up their in-store game.
Online buying options have made it harder than ever for furniture retailers to actually get customers to visit their brick-and-mortar locations—maybe even harder than it is to lick your elbow. (We know you just tried it.)
Unlike decreasing the distance between your tongue and elbow, there are a few things furniture retailers can do to make an in-store buying experience more appealing for customers. Try offering these three services for upping in-store sales:
Trials and Demos
One simple way to set an in-store experience apart from online shopping options is by offering trials and demos. Everyone wants to know what they're getting before they buy, and this option provides the ability to test products before making a purchase commitment. Not only do trials and demos inform buying decisions, they also make it easier for the retailer to show a buyer why the product is perfect for their needs.
Price Matches
Consumers are always interested in getting the best value for their money. And for customers who are already pretty loyal to your brand, offering price matching could be the difference between the customer visiting your storefront for a purchase and taking their sale to a cheaper store where they can order online, like Ikea.
Warranty Solutions
When customers are shopping online, they can completely overlook extras—like warranty solutions—that can help them in the long run. By offering warranty solutions, and having salespeople who know their benefits, you could save your customers a ton of money and time. With higher priced items like furniture, the customer is more likely to see the benefit of extra protection and will be thankful they came into the store to speak with a salesperson.
Customer experience is everything. And with these tips you can create an experience your customers won't find online or in a competitor location, but only on the floor of your store.
Want to learn more sales techniques for in-person furniture sales? Check out these tips!