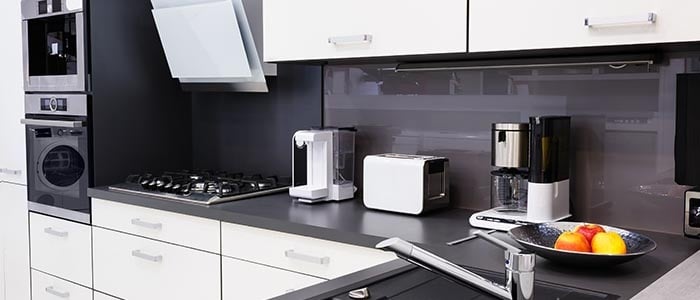 Here's how smart appliances are changing your customers' kitchens.
Imagine a refrigerator that tells you if your eggs are going bad, a frying pan that detects the exact temperature of your food, or a fork that tracks your eating habits. Sounds like The Jetsons, right? Well, believe it or not, you can get all of these futuristic kitchen aids right now.
Technology is revolutionizing almost every industry, including home appliances. In fact, the kinds of advances listed above were on full display last month at the 2016 Consumer Electronics Show (CES). And with growing interest in smart appliances, you're likely to see them popping up in a home near you.
So, get ready for the future with a short preview of the kind of smart home appliances you could soon be selling:
Take the guesswork out of cooking


Ever wonder if a chicken is actually cooked through, or how long you should grill steaks to get them perfectly medium rare? Folks are always guessing in the kitchen. But with smart devices like the Lynx Smart Grill or the Range Smart Thermometer, you'll soon see customers rushing to retailers to grab appliances that help take the guesswork out of cooking so they can get it right every time. Not only can these smart devices be marketed as something to make food tastier, but they can also make cooking safer by steering customers clear of potential health dangers.

Shop from anywhere

You thought mobile was on the rise—just wait until customers are ordering from their fridge! Smart appliances like the new Samsung refrigerator offer yet another way for customers to shop from the comfort of their home. And, while there aren't many more appliances like this on the market just yet, we can see this becoming a trend in the near future.

Beat the clock


Many of us feel too busy for the things that make life more enjoyable. With so many boxes to check, it's easy to understand how the to-dos could get out of control. Thankfully, the era of automation is upon us. Enter coffee makers that allow consumers to preload grinds and start the process from their smart device, fridges that check expiration dates, and even automated flatbread makers. Consumers are always up for something that'll make their lives easier, so be prepared for a rush on convenient items like these as soon as they hit your shelves.
As the popularity of high-tech appliances continues to climb, so does the need for high-end protection. That's where offering extended warranty solutions could come in handy. Visit our website to learn more about Fortegra's protection options to prepare you and your customers for the future, today.