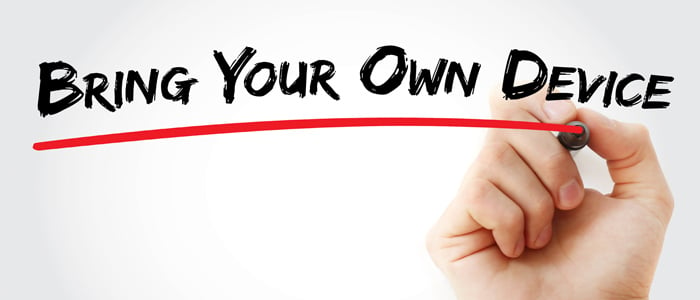 What is 'bring your own device'—aka 'BYOD'—and how can it benefit both consumers and carriers alike?
---
With 95 percent of Americans owning a mobile phone and more than 50 percent of households doing away with landlines, wireless service is no longer a luxury, but a necessity. Now, between widespread need and near endless options, providers are expected to constantly evolve to stay competitive in the market.
One of the most recent evolutions of wireless service? Bring-your-own-device contracts. Better known as 'BYOD' plans, these contracts allow consumers to switch a device from one network or provider to another, without the requirement to purchase a new (and often expensive) device. That's right: using BYOD, customers can keep their existing device, but receive service from a new provider.
At first, the prospect of BYOD may seem daunting to carriers – how could a provider possibly benefit from consumers bringing in old phones rather than purchasing new ones? Thankfully, we've got answers.
The upside of BYOD for consumers
BYOD offers multiple advantages for consumers. As mentioned, BYOD removes the requirement of a new device purchase when switching wireless carriers. With the average price of a smartphone at $363, that's a nice wad of cash going back into consumer wallets. Additionally, while warranties aren't unique to BYOD, the introduction of new BYOD protection plans mean consumers don't have to worry about carrying around an unprotected device, no matter how old it is.
The benefit of BYOD for carriers
Considering Americans are waiting an average of 2.83 years to upgrade their devices, it makes sense that many consumers would take advantage of BYOD. But with people bringing their old devices into the store, the prospect of a new phone purchase is tougher for carriers to pitch and even trade-in options aren't guaranteed to get a customer into a carrier's device.
So, with the opportunity to generate new device revenue reduced, how can carriers benefit? In addition to welcoming new customers as their wireless provider, carriers can recoup revenue by offering updated accessories to complement older devices, and suggesting the aforementioned warranty protection to BYOD customers, which is also a great way to reduce churn. By delivering these value-adds, a carrier can set themselves apart from competitors by highlighting new technology, customer convenience, and long-term care.
Despite industry changes, there are ways carriers can adapt to serve both their customers and their bottom line—and a BYOD offering checks all the boxes. Want to know more ways to stay ahead of the competition in the fast-paced wireless market? Check out our blog on the questions your team needs to be asking to provide great customer service!
Fortegra® is the brand name for the insurance, specialty underwriting and warranty solution operations of Fortegra Financial Corporation and its subsidiaries.