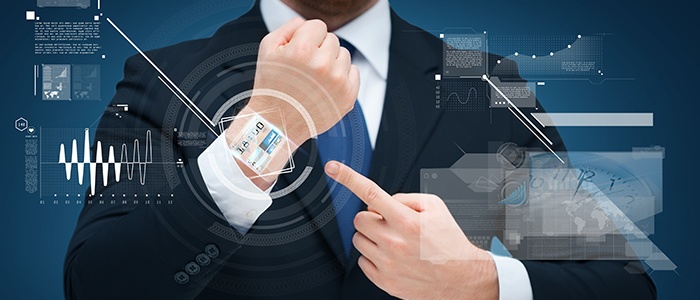 The smartwatch industry is evolving. Here's a glimpse at recent events and predictions for the industry's future.
At the close of 2014, the smartwatch industry had a whopping 89 companies vying for real estate on American wrists.
Of those 89 companies, 10 dominated close to 80 percent of the total market share.
Among the top 10, four companies were new to the market in 2014.
The six market veterans all experienced at least 20 percent growth.
Though you probably know someone with a smartwatch, this red-hot industry is still in its infancy. Sure, Dick Tracy had one before any of us and tech companies have been experimenting for over a decade (does anyone remember the IBM WatchPad in 2001?, but we're waiting for the big boom. So, what's the holdup? Are consumers holding out for a new brand, better features, a lower price point, or all of the above?
How Big Is Apple's Bite?
We'll have to wait and see, but they look hungry. Apple introduced its smartwatch – the Apple Watch (naturally) – this past April. According to Forbes, 957,000 people pre-ordered one. How does that compare to past Apple launches? Well, the iPhone sold 270,000 units in its first 30 hours and the iPad ran out 300,000 units in just one day.
To say that the Apple Watch had a nice debut would be an understatement, but it may be a mirage. One survey by Piper Jaffray found THAT only seven percent of iPhone users plan to accessorize with an Apple Watch in 2015; that's compared to the 35 percent of users who said they would purchase an iPad after seeing the tablet in action. Critics attribute this to the idea that there's no clear use for smartwatches without a defining feature that makes them must-have items.
Anything Your Smartwatch Can Do, Your Smartphone Can Do Better
Without a standout feature, smartwatches are likely to face an uphill battle to increase sales. For instance, smartwatches have the ability to read and send texts, make phone calls, check the weather, and surf the web, which might make them technologically superior to a common wristwatch. But a smartphone can do all that and more.
On this topic, the Pebble smartwatch emerges from the crowd with an interesting feature: it's water resistant up to 50 meters. Imagine going swimming in a lake, ocean, or pool and still being able to receive and read your texts, for example. (Talk about multi-tasking.) With this feature Pebble sets itself apart from not only other category competitors, but issues a challenge to smartphones as well.
What Time Is It?
Big press notwithstanding, the smartwatch industry is just getting out of the gate. But it may just be a matter of time before the right brand, must-have features, and the perfect price all align into one hit product. Who knows, maybe one day the smartwatch will be as prevalent as the smartphone is now.
Of course, if your customers have gotten in early and already have a smartwatch, we've got 'em covered. Fortegra now offers accessory protection plans similar to our phone and tablet products. And that's good news for early adopters (especially if they're not sporting the water-resistant Pebble smartwatch). Check out the latest additions to the Fortegra Warranty lineup at fortegra.com/warranty.