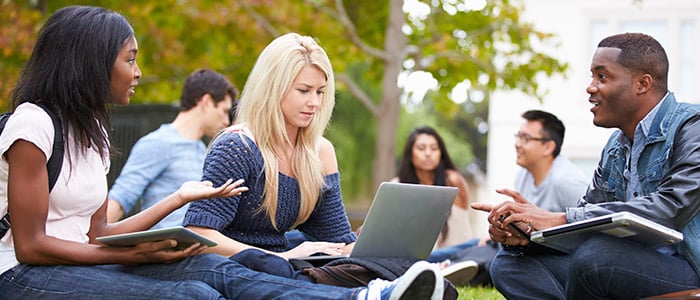 Believe it or not, it's almost time to head back to school. Here are the tech products today's students need to succeed.
---
Every year, as summer nears an end, retail sales tend to slow putting a strain on incoming revenue. But each year the calendar also offers opportunity in the form of back-to-school shopping.
As education continues to become more tech-reliant, parents want to make sure their children have the right tools to succeed as students—particularly at the collegiate level.
Smartphones
In recent years, many college campuses have created mobile apps to provide important information to students like class schedules, safety alerts, and more. So, in addition to the huge volume of data many college students use on their devices—upwards of 5GB per month—they need quality, advanced devices to keep up with critical campus communications.
And let's not forget: tuition ain't cheap. In addition to updated capabilities and reliability, budget-conscious students are looking for value as well. On that front there's good news: some carriers offer discounted device pricing for collegians.
Laptops
Rumor has it, college students still use books from time to time – but it's been several years since laptops weren't an absolute necessity for scholastic survival on college campuses. Not only are many of today's assignments and projects web-based, but the data required to complete them is easily accessible online. And with student schedules bursting at the seams, a portable computing option is the best bet for undergrads on the go.
Tablets
That said, when a laptop might be more than students need, tablets offer a terrific alternative. Perfect for taking notes, doing a little research, or catching up on the latest assigned reading thanks to the convenience of today's electronic textbooks, tablets are also a lot easier on the back during those long treks across campus.
Headphones
Finally, today's higher learning experience wouldn't be complete without a good pair of headphones or earbuds. For students needing to focus up to study or wind down with their favorite tunes, there are some great noise-cancelling headphone options that offer some much needed solitude amidst the hustle and bustle of campus life.
Up-to-date tech tools are essential for today's college students. But when their tools don't work, their projects don't get done and their collegiate experience suffers. For that reason, an extended warranty plan is also a must. If you're a retailer offering these products, you can help ensure your student consumers are making the most of their education with long-term protection for their important educational technology investments.