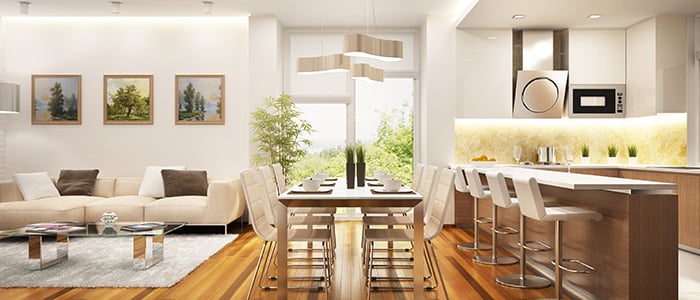 Your customer's home is in danger…from everyday mishaps! Thankfully we have answers.
If you were to take a tour of your customer's home, what do you think you'd find? Try to ignore those few stray shoes or the messy laundry room and really look. Can you tell what they care about? Of course they care about their family members, pets, and heirlooms. But is it evident what they can't live without, the things they rely on every day?
What about their fridge, their TV, their phone? Hey, what about their favorite chair? These are some pretty big ticket items that, aside from being pricey and an important part of their everyday lives, have something in common: they can break or be damaged.
So how can you, their retailer, provide your customers with protection for everyday mishaps that may impact these items and affect their lifestyle? C'mon. Let's take that tour…
The Living Room
First stop: the living room! Just look at all that furniture, would ya? According to Furniture Today, consumer spending on furniture increased two percent to $96.4 billion in 2014. While customers may be spending a bit more, it doesn't necessarily mean they're buying more furniture. Let's face it: furniture is pretty expensive. Knowing this, customers consider a big furniture purchase a major investment that – hopefully – will last a long time despite everyday wear and tear from kids, pets, food, or the regular TV binge-watch.
Fortunately, Fortegra offers protection from all types of damage for a variety of furniture and fabrics. And about that TV: what if the flat screen goes on the fritz? Yep, we've got warranties for those as well as kaput computers, or even gummed up gaming systems, too.
The Bedroom
Which household item do your customers use the most? Well, given how many hours of our lives are spent sleeping, it's likely to be their bed. And for those with mechanical beds – growing more popular everyday – the threat of a non-functioning bed is pretty real.
Not a problem. Fortegra can help your customers rest easy thanks to warranties for mechanical beds, mattress pads, and more. Plus, we've got the alarm clock…err…mobile phone covered too. Thanks to Fortegra's ProtectCELL mobile device and data protection lineup, customers can be sure their phones (and tablets) ring true morning, noon, or night.
The Kitchen
Finally…the kitchen. Ground zero for accidents and mishaps.
By now you know that the kitchen table and chairs are covered, but what about those important contraptions we all use every day? You guessed it – the fridge, range, oven, dishwasher, and microwave can be protected too. And soon, we'll be able to do it all at once. Stay on the lookout for Fortegra appliance bundles coming your way in the next few months.
Thanks for taking the tour with us. You may be wondering, 'Just how does Fortegra do it?' Well, it certainly doesn't hurt to have a warranty provider in the family. We can create the products our clients want and your customers need, all while protecting a few other things you might care about: your customers' wallets and your bottom line.
Are you ready for you and your customers to Experience More? Visit us at fortegra.com.