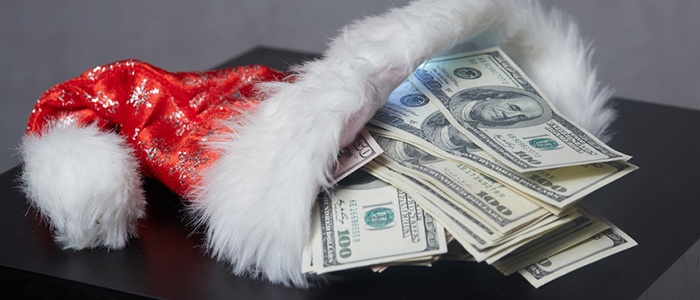 Spark interest in add-ons this season with these five tips.
You might know them as 'companion products', but come holiday time, add-ons take on a more seasonal moniker: 'stocking stuffers.' And these extras can do more than stuff stockings; they can stuff retailers' pockets with cash. So, how do you make sure these potentially lucrative little add-ons land in holiday shopping carts?
Here are five ways to capitalize on these oft-overlooked extras to boost your seasonal sales:
Give them a reason.

When recommending add-on items, give your customers a real reason why they should buy them. Selling smartphones? Items like wireless chargers, screen protectors, and electronics protection plans can help knock out potential headaches that may come with owning the device.

No one wants to scratch their screen, lose their juice halfway through the day, or have to replace their phone at full price if it's lost or stolen, so suggest items that might help curb these common problems. If they have kids, the fear of device damage is probably a daily reality. Address that anxiety by offering add-ons like tablet protection at both home and school.

Make it easy.

A.T. Kearney's recent study showed that 40 percent of consumers spend more money in stores than originally planned. Impulse buying! Great news for you. So, don't hide away your stocking stuffers on a shelf in the back of the store. Feed the impulse and make sure add-ons like cleaning kits and headphones are easy to spot.

Shoppers are much more likely to throw an extra item in the cart if they don't have to think of it themselves. And there are tons of things customers don't think of themselves, like protection plans, the type of extras that could save a ton of time, energy, and money, but aren't the first things that come to mind. Tactics like signage or special hangtags remind customers about these intangible add-ons, and can help you make that in-the-moment sale.

Increase their purchase value.

Another great way to spur add-on purchases is by offering extras that let buyers enhance the performance or capabilities of their device. Items like wearable tech and audio accessories let them utilize their device in new ways and will increase the value of the purchase. So, not only did your customer just purchase a smartphone, but they can now use it for fitness tracking or music streaming, too!

Appeal to their personality.

Ever see something and think 'that's so me'? Stocking varying accessory designs will increase your chances of speaking to an individual buyer's personality and making that 'I just have to have it' sale.

According to a survey by CreditCards.com, 50 percent of women and 47 percent of men—not to mention, an impressive 69 percent of 18-to-29-year-olds—have made impulse purchases just because they were 'excited.' So, stock up on your colorful phone cases and let the products do the talking.

Having a specific item SKU isn't the only way to appeal to a customer's personality. As you speak with them, look for clues regarding product usage and leverage that information to tailor your pitch. Got a customer who recounts their clumsy night at the bar? When promoting add-ons like screen protectors and protection plans, be sure to reference how those products just might come in handy during another 'uh-oh' evening out.

Just ask.

Probably the easiest tip of them all: simply make an offer. It never hurts to ask your customer about add-ons. Suggest one of your best sellers or an item that fits their purchase. The worst thing that can happen is they say 'no.' According to Forbes, Amazon reported that 35 percent of their revenue is from cross-selling. Take a lesson from their 'Frequently Bought Together' suggestive strategy to nail cross-selling your stocking stuffers.
Looking to use these handy tips to sell more add-ons this holiday season? Tweet @Fortegra and share your goals!