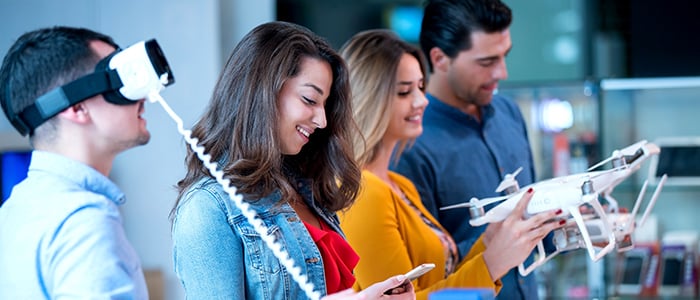 With the use of consumer electronics expanding, how can retailers make sure their customers stay connected?
---
As technology continues to be grafted into daily routines, many Americans are now reliant on the survival of consumer electronics products—from tablets, TVs, and gaming systems to smart speakers, smart watches, and, of course, smartphones. Including a six percent increase from 2017 to 2018, consumer electronics sales have grown significantly in recent years, to the tune of 377 billion in retail revenue. And it's not just demand that's driving growth, but also immediacy, with now 70 percent of consumers preferring to shop online.
With the function of many of these items connected—as well as chores, appointments, entertainment and more on the line—a mishap on just one CE product can spell real trouble. It's vital that users ensure their CE experience goes uninterrupted. Fortunately, there's a way for CE retailers to do just that—with the help of a warranty provider, like Fortegra.
By partnering with Fortegra, you can provide customers with extended service contracts for CE purchases—including purchases made online—allowing them to ensure their daily routine doesn't miss a beat. It's a partnership opportunity that's not only a benefit for customers, but also an additional line of revenue for retailers.
Want to know more about how Fortegra can help protect your CE customers with extended service contracts? Check out our warranty lineup at Fortegra.com!
Fortegra® is the brand name for the insurance, specialty underwriting and warranty solution operations of Fortegra Financial Corporation and its subsidiaries.