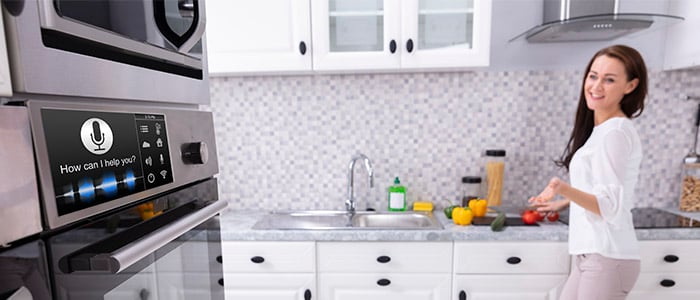 The connected home promises convenience. But for some manufacturers and consumers, enjoying that promise has been a challenge.
---
Already the fourth-largest category of smart devices, connected 'white goods'—better known as appliances—are projected to be a dominant presence in the smart home market in just two short years. Considering the complexity of these devices and their importance in the home, are manufacturers and consumers prepared to take on the bumps as well as the benefits of a connected future? Let's take a look.
The Benefits of Connectivity
As we've discussed before, the connected home offers a number of consumer benefits. Via home Wi-Fi, consumers with connected devices can now communicate remotely to control home climate settings, analyze the contents of their fridge, do a load of laundry, and more. Available at their fingertips, this level of convenience helps consumers simplify their lives and boosts both time and energy efficiency.
For manufacturers, the benefits are less front and center, but no less valuable. On the whole, the ability to source consumer data like purchasing decisions and other behavioral info—often in real time—is a big deal. Additionally, connected devices also help simplify and improve the repair process, diagnosing issues as they happen, increasing the accuracy of repair data, and reducing the frequency of false claims.
However, without the proper systems in place, both parties have been a little slower than expected to enjoy their respective benefits.
Complex Concerns
One of the biggest obstacles facing both the adoption of and satisfaction with these smart home products is complexity. For starters, installation alone can be challenging and time-consuming. While the prospect of smart home connectivity might sound appealing in the showroom, consumers have found linking them with and operating them through their home networks cumbersome without the aid of a professional.
Due to this complexity, manufacturers are attempting to adapt on the fly in the early stages—specifically by simplifying setup and making greater efforts toward consumer education. But many vendors are finding that to be cumbersome themselves.
Smart Home Solutions
As a result of these challenges, manufacturers are looking to third parties to not only help manage the installation effort, but manage everything thereafter to ensure it's worthwhile for consumers looking to spend big bucks on new home tech. Thankfully, many extended service contract providers are answering the call, creating smart home device protection programs that cover repairs and replacement, plus provide tech support to help consumers navigate any connected home conundrums.
Though the smart home market is growing, questions about product complexity, installation issues, and long-term maintenance have tempered expectations just a bit. However, with the help of extended service contracts that offer product protection and peace of mind, manufacturers and consumers alike can truly take advantage of all the benefits smart home connectivity has to offer.