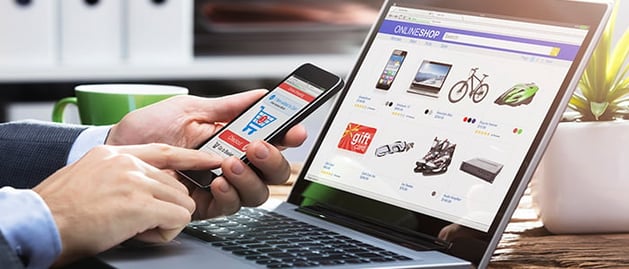 3 Service contracts that will appeal to online shoppers.
Over the past few years, the frequency of online shopping has continued to rise, and its steady climb received a huge boost this year due to the Covid-19 crisis. As Covid-19 swept the nation,
online shopping
changed both the way people shop and what they buy. According to a recent study done by Emarsys and Gooddata, there has been a
129% year-over-year growth
in U.S. & Canadian e-commerce orders as of April 21 and an impressive 146% growth in all online retail orders.
Although online shopping rates for furniture and other big-ticket items typically trail smaller, less expensive items, Furniture delivery and shipping services are making it easy to order large furniture items through simply a click of a button. Furniture delivery and shipping services have become a staple for many retailers—MattressFirm and Rooms To Go both offer shipping and delivery services, including shipment tracking and a 48-hour advanced delivery notice so consumers know exactly when to expect their order.
For consumers, there are advantages and disadvantages when buying furniture online. Consumers benefit from a hassle-free shopping experience, with the ability to shop from the comfort of their own home. The consumers feel less pressure to buy something and can compare prices among competitors with ease, allowing them to make a more educated decision and feel confident in their purchase. On the other hand, consumers are unable to test or see the furniture in person, which can lead to a higher dissatisfaction rate.
These disadvantages provide an opportunity for retailers to market service contracts. When buying furniture, consumers can make confident purchases, knowing that their product is protected. Below are 3 different service contract options for consumers purchasing furniture online.
1. Service Contracts
Offering service contracts gives consumers the peace of mind that, should something happen to their product, the product is protected (subject to the terms and conditions of the service contract), and their money hasn't gone down the drain. As consumers prepare to spend large sums on a piece of furniture, service contracts provide a safety net for consumers and reassures them that even if the product breaks right away, the service contract can provide coverage for repair or replacement of the product. However, coverage provided under the service contract is subject to the manufacturer's warranty first. If coverage is provided under the manufacturer's warranty, it is generally not covered under the service contract.
2. Trial Periods - Retailer
Since most of these items aren't cheap, offering a trial can allow consumers to test the product to make sure it's right for them. For items they are going to use every day, it's important that they find the product comfortable before purchasing it. For online purchases, longer trial periods allow the consumer to test products and have time to mail products back after diligent consideration, so consumers can be certain that this is the product for them.
3. Manufacturer's Warranty
Manufacturer's Warrantor or guarantees protect consumers against product defects, but not normal wear and tear that occurs after prolonged use. For consumers who haven't seen the product in person before buying it, this warranty or guarantee can be a weight off their shoulders, allowing them to be confident they will receive an intact, pristine product. Consumers are more likely to place orders without viewing products in person if they are confident that they will not receive a damaged item.
In the past, consumers have been reluctant to make big-ticket purchases online. Now, the Covid-19 crisis has pushed these previously reluctant online shoppers into the fray. As the advantages of purchasing furniture online begin to outweigh the disadvantages, retailers can step in with the service contract, tipping the scales in favor of making the purchase with a click.
As shopping habits change, companies should ensure service contracts are available for online shoppers to purchase. Consumers can be offered service contracts when adding a product to their cart, and again when they check out with their product. Although some companies may not have experience with service contracts, Fortegra is prepared to design or provide you with a service contract that meets your needs. Contact Us today to see how we can help you support your customers.