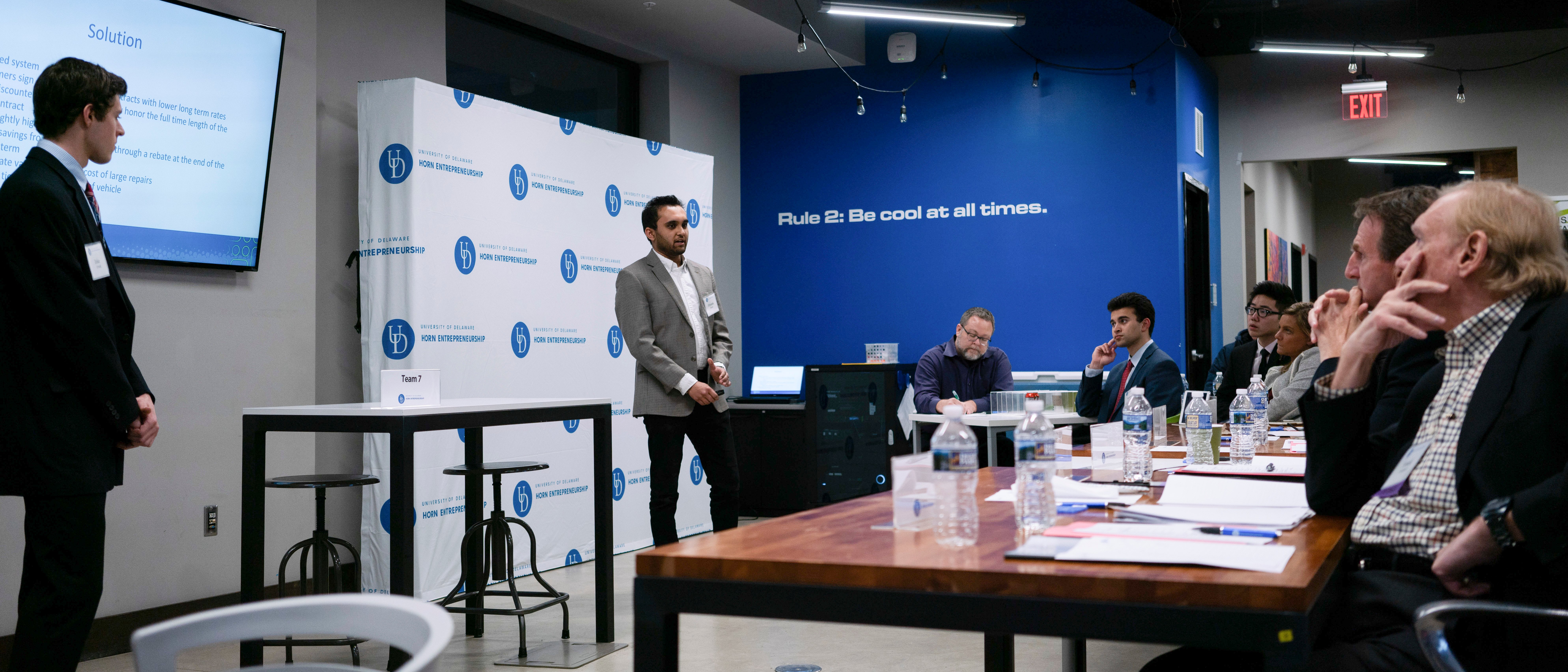 Partnership aims to foster real-world business education for UD students
JACKSONVILLE, Fla. (April 10, 2019) – Fortegra Financial Corporation ("Fortegra"), a leading international specialty insurer and subsidiary of Tiptree Inc. ("Tiptree"), today announces a new partnership with Horn Entrepreneurship, a unique student development initiative at the University of Delaware.
During the weekend of March 1–3, Fortegra staff offered industry expertise and support at Horn's Innovation Sprint, a case competition featuring a business challenge relating to a corporate acquisition. The challenge asked students to analyze a business problem, employ product positioning, marketing strategies, and customer service tactics, and work to recommend a solution. Student teams then presented their conclusions to a panel of qualified judges, including Fortegra CFOs past and present, investment bankers, and board members.
Events like the Innovation Sprint and other Horn challenges help prepare participating students to adapt, thrive, and lead in future management roles.
"When these young entrepreneurs start their own company one day, some may encounter an acquisition opportunity. This challenge offered a real-world scenario that provided guidelines for how to build an acquisition strategy," said Scott McLaren, CMO and Executive VP at Fortegra. "Not only is this partnership terrific for Fortegra, but it also presents an opportunity for UD students to Experience More in an educational setting."
A worthwhile experience for UD students and Fortegra employees alike, the authentic business challenges and access to C-level insurance execs offered by the Innovation Sprint helped lay valuable groundwork for successful professional careers.
To learn more about Fortegra products and services, visit fortegra.com. For details about Horn Entrepreneurship at the University of Delaware, go to www.udel.edu/research-innovation/horn.
About Fortegra
Fortegra Financial Corporation (a Tiptree Inc. company) and its subsidiaries comprise a single-source insurance services provider that offers a range of consumer protection options including warranty solutions, credit insurance, and specialty underwriting programs. Delivering multifaceted coverage with an unmatched service experience for domestic and international partners and their customers, Fortegra solves immediate, everyday needs, empowering consumers to worry less and Experience More.
About UD Horn Entrepreneurship
Horn Entrepreneurship serves as the University of Delaware's creative engine for entrepreneurship education and advancement. Built and actively supported by successful entrepreneurs and thought leaders, Horn Entrepreneurship empowers aspiring innovators and entrepreneurs as they pursue new ideas for a better world.