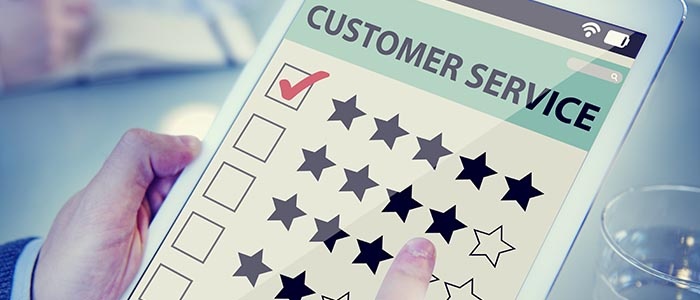 Use these four technology tips to upgrade your CRM for more satisfied customers.
Oh, 1994. When you could get trapped in a bank ATM vestibule with no way to call for help, and customers would show-up for private fittings rather that visiting your store's website.
Okay, so maybe that was just Friends. But technology—specifically how businesses can use it to reach customers—has changed a lot since the early '90s. Sure, it can sometimes be a bit overwhelming, but technology can also help your brand in ways Chandler and Rachel might've never thought possible.
Take a peek at these tips to see how you can utilize technology to deliver smarter, faster, better customer service.
Give customers the immediate attention they crave.


There are so many ways to communicate these days; it's tough to keep up. But these channels are opportunities, and you should strive to connect with customers through as many of them as possible. While you can still speak with them directly, be sure to provide areas on your website that allow customers to answer their own questions or seek answers in other ways. Social media has opened up a lot of possibilities in this regard. On that note…

Implement social media strategies.

Customer interaction doesn't always need to be via a customer service hotline or an in-store help desk. Use social media to your advantage. Most people have at least one social media account they log in to frequently. Make sure you're monitoring these channels for any consumer inquiries.

Utilize online surveys.


Have you ever ordered something online and been asked to rate your feedback on the transaction? This tactic doesn't have to be limited to online retailers—your brand can do it too! There's an abundance of people who love to share their opinion (whether you've asked them to do so or not), so give them an outlet that you can use to improve your business. These responses can help you better understand what your customers like and dislike, giving you the insight needed to properly adjust your current customer service strategy.

Don't lean on tech too much.


While you can definitely use tech to your advantage, don't go overboard. People still benefit from human interaction and understanding. Often, it's much easier to solve a problem by talking with someone rather than navigating an automated system. If the automated route is unavoidable, make sure it's a smooth process and have a customer service representative follow up promptly. Everybody knows how frustrating it is to leave a message about a customer service question and not get a reply.
How do you use technology in your customer service? Tweet @Fortegra to share your strategies!