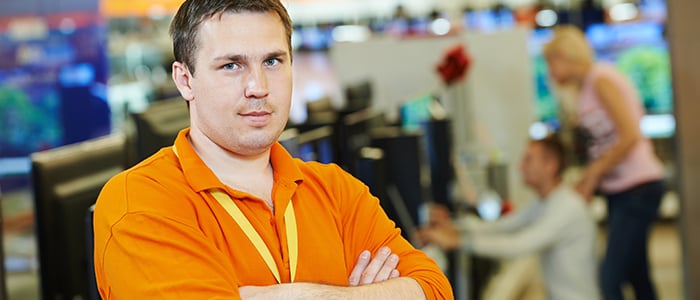 As margins dwindle on standard products, don't you wish there were more revenue opportunities? Looks like someone's wish just came true.
In today's competitive retail market, increasing your revenue and providing value to your customers has become even more difficult; like, on a scale of 1 to 10, we're talking a '10' difficult.
Consumers now have more choices both in-store and online. Many products have become a commodity. Prices and margins are shrinking. And let's be honest, you're probably already offering the typical ways to boost margins, such as insurance, warranties, and financing plans.
So, what else is there? (Preferably something that doesn't take up space on your already crowded shelves.) Well, we can think of three.
The Top 3 Additional Sales Opportunities
1. Credit Protection Products
Not everyone can sell credit protection products. It really depends on the financing program you offer. But – without getting into too much detail – there's a pretty good chance you could be in business to use them.
What are credit protection products? For retailers, it's a package of three plans that provides the consumer added security should something happen during their loan period. It's great for the customer because their loan payment or balance is covered, and it's great for you because they won't default on their loans. Here are the options:
Credit Life Insurance – If your customer passes away during the loan period, the plan covers the rest of their payments or, in some states, the entirety of the loan balance.
Credit Disability Insurance – If your customer is sick or injured, this plan makes the payments while they're disabled and unable to work.
Involuntary Unemployment Insurance – If your customer's job status hits a rough patch, their loan payments will be taken care of while they're unemployed.
Please note, these are simple explanations of the plans and, just like all insurance plans, certain restrictions and limitations do apply. But in the end, they allow you to provide a value-added service that doesn't take up any space and translates to a commission.

2. Identity Theft Support

Did you know that Fortegra has a partnership with LifeLock®, the industry leader in identity theft protection? We can very easily connect you to LifeLock, so you too can offer the safety and security of these products to your customers. Talk about providing peace of mind!

There are a variety of plan and pricing options, so it's easy to find a plan that will sell like hotcakes in your retail location. And with the national brand awareness LifeLock brings to the table, most of your customers will already be familiar with it before they even enter your store.

Add to that the combined training efforts between Fortegra and LifeLock, and sales representatives have all the tools they need to seal the deal.

3. Motor Club

Sure, this one isn't for every retailer. It really depends on what you're already offering. But for some, it's a great fit and another product – like the insurance and warranties you're accustomed to seeing from Fortegra – that can really bail out a customer in their time of need. Plus, the benefits of a motor club membership are easy to understand and carry few regulations.

Once again, a value added service that doesn't take up any shelf space and brings in additional commission.

Ready to roll out?

Isn't it time you looked past the traditional ways of increasing profits and try something new? Fortegra can help you make more money while still providing valuable services to your customers. Take a minute to learn how you and your customers can Experience More. www.fortegra.com/credit-protection