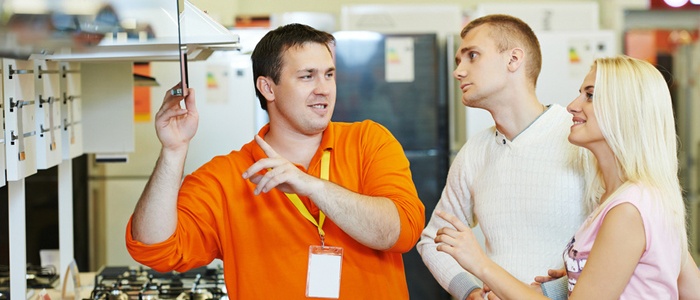 Consumers don't want to talk to a sales robot. Brush up on these important sales skills to give your customers a more personalized experience.
---
No matter how far along you are in your sales career, it never hurts to evaluate the effectiveness of your customer service skills. The tricks of the trade are constantly evolving, and it's your job to adapt. Ready to add some skills to your sales game? We've pulled together 10 top tips to get you started.
Adopt a people-first mentality.

Don't just think about making the sale – your customers will be able to tell your intentions. Instead, make it clear you value customer needs first by asking questions that show you care.

Think about timing.

What times of the year are your customers shopping the most? Plan your sales and deals accordingly. Post-holiday sales are an especially good time to offer savings on older inventory.

Reward your customers.

Keep track of the customers who keep coming back. Offering loyalty programs or special offers to your best customers will show them how much you appreciate their business.

Don't forget value-adds.

Offering extra value at checkout is a great way to show customers you're thinking about their needs—now and in the future. You never know, you might be introducing them to a helpful product they didn't know they needed.

Go digital.

Meet your customers where they spend a lot of their time: online. Think outside the box with engaging email promotions and social media ads that get them to your site and bring them in the door.

Be engaging.

On the flipside, when customers are in your store, do what you can to pull attention from their screens. Strike up interesting conversations and take time to show customers you want to get to know them.

Be willing to adapt.

Avoid going through the motions and getting stuck in routines. Be willing to listen to new ideas for how things should be done, and make innovation a priority.

Treat customers as individuals.

Your patrons will never be a one-size-fits-all equation. Take time to understand each customer individually and you'll be better equipped to make the right recommendations.

Present value over price.

Know your products inside and out, and offer an in-depth understanding of the practical application of their individual benefits. In other words, be an expert your customers can rely on.

Focus on being genuine.

To get there, think about your intentions, get a read on your customer's needs, and remember to slow down – don't rush the exchange just to make the sale.
These changes won't happen overnight, but practice makes perfect. Be patient – taking the time to work on these tips will help you put your best foot forward for customers. For even more insights on how to put customers first, give our recent blog on customer-centricity a look.